PRUDENCE MEKONGUE
THE TOWN CRIER COLLECTION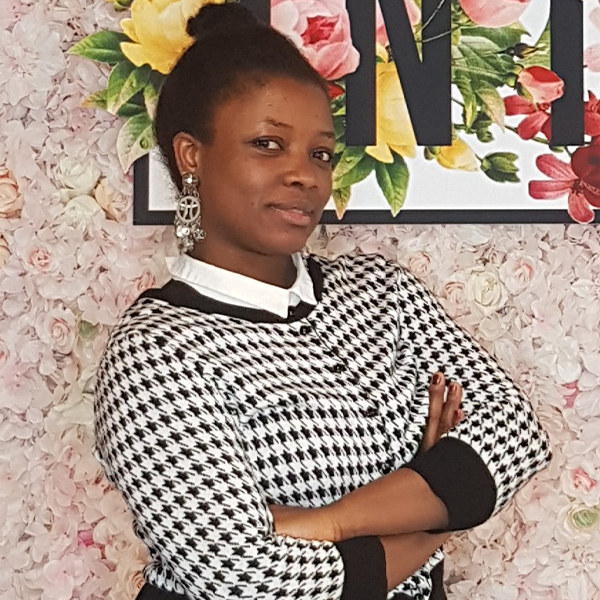 The Town Crier collection is inspired by American essayist, civil rights activist and poet James Baldwin and how through the relevance of his work in the current racial climate, he can be considered a parallel to a West African Town Crier.
Video of The James Baldwin Dress
Material: Black Silk Velvet and hand beaded image of James Baldwin
Sound credit: James Baldwin -Pin Drop Speech. Retrieved from https://www.youtube.com/watch?v=NUBh9GqFU3A
CLOSING STATEMENT
When I got into fashion school, I had an idea of what my graduation collection would look like. Over the last year, I have grown as a person and this growth process guided me through the design and manufacturing process of my collection. I know where I come from and I hope one day I will be able to help improve someone's life with the skills I have acquired over the past years. For now, I want to thank my classmates for the memorable lab hours. Thank you to our teachers for their toughness and their guidance. Thank you to the Black Fashion Student Association (BFSA) for being a space I looked forward to during the past year and to Caron Phinney for this amazing initiative. Thank you to Audrey Renolds for her technical support. Thank you to Pui Yee (P.Y) for both her tough love and for making sure that we always had something to eat while we worked in the lab. Thank you to Heidi Ruggier, President & Founder, Matte PR  for the Black Fashion Student Association Award donation which I was the recipient this academic year. I am also very grateful to have had International dressers and Dyers, Four Seasons Fur and Fur Council of Canada as sponsors for my collection. Thank you to my supervisor Farley Chatto for his immense support. I am grateful not only to have had you as my supervisor but also to have met someone as professional and generous as you are.