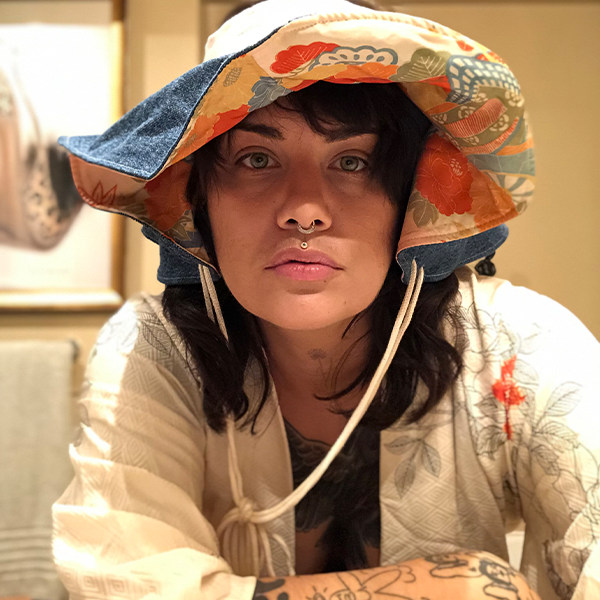 This project is informed not only by feline behavioural science research but my own personal experiences with my two cats. Ichy and Fry influence my creations as muses in addition to being active participants in my creative process. Their interactions with my work inspire me to be exhaustive in testing and product development.
Personally, being queer is not only an orientation but a political standing of intentionally opposing the status quo. The pieces I create are a love letter to my chosen family, their personalities, individual play preferences and feedback are highly valued and utilized in my creative process. Intentionality is the driving force behind my capstone. The products and branding exemplify both artistic beauty and induce the desire to play.
By using improvisational practices, I am able to connect with each individual piece with the intentionality that reflects the brand. Each cat product is made from combed, and dyed Canadian sourced wool, which is either needle felted or wet felted into a functional art piece for the home. The branding for the business is all taken from digital illustrations based on Ichy and Fry, through the process of writing poetry and then translated into visual art.
A film to encapsulate the outcome of my capstone. Showcasing my self-published zine of poetry and mixed media illustrations, felt products for my brand Ichy & Sons, and the website where my products are available.
CLOSING STATEMENT
I would like to thank my family, chosen family, friends, and supervisor Tanya for the incredible experience that building a capstone has been. My partner and two cats have not only provided me with unconditional support but endless patience. Fry did not always feel like being photographed but when he did he was a super model.
I look forward to the future of Ichy & Sons, from learning how to felt bigger and better beds to eventually a cheeky little video game. This has been a passion project, and I have every intention of continuing to realize my vision.